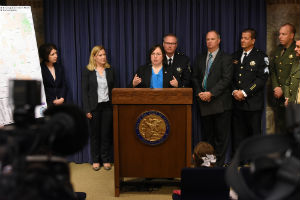 SPRINGFIELD – Both the Illinois House and Senate advanced legislation sponsored by State Senator Cristina Castro (D-Elgin)yesterday to create stronger penalties for texting and driving.
"Many people think texting one quick message while driving is harmless," Castro said. "We have to get the message across that this can be life-changing."
Under current law, first offenses of texting and driving are treated as non-moving violations. With House Bill 4846, a moving violation will be noted on the motorist's driving record, along with fines and court costs.
Last year, Castro passed Senate Resolution 322 to establish an Illinois Distracted Driving Awareness Week. This piece of legislation will crack down on the epidemic in a more forceful way.
"There are countless distractions while on the road," Castro said. "It's important that we do our best to educate and bring attention to this issue because the consequences can be deadly."
House Bill 4846 passed both the House and Senate and now moves to the governor's desk for consideration.
Category: Information