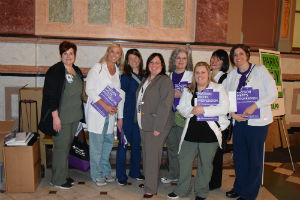 SPRINGFIELD – Both the Illinois House and Senate passed legislation sponsored by State Senator Cristina Castro (D-Elgin) today to protect nurses from workplace violence.
"Health care providers devote their lives to helping their patients," Castro said. "It is time that we help them. Nurses deserve to come to work and feel safe."
This legislation is in response to an incident that occurred in Kane County on May 13, 2017 at Delanor Hospital. Two nurses were taken hostage by an inmate undergoing treatment who managed to obtain a handgun.
"The incident that happened in my home county at Delanor Hospital was both alarming and upsetting," Castro said. "These nurses went to work that day to do their jobs and help their patients, but instead they were assaulted. That's why I brought forth this legislation. Our nurses deserve to be protected."
In Illinois, violence against a nurse is deemed a class three felony charge, but there are no laws that require health care employers to provide protection to nurses, staff, patients and visitors.
House Bill 4100 will create the Healthcare Violence Prevention Act to protect health care providers, put in place a violence prevention program and add whistleblower protections for nurses that report violence to law enforcement.
House Bill 4100 passed both the House and Senate and moves to the governor's desk for consideration.
Category: Information