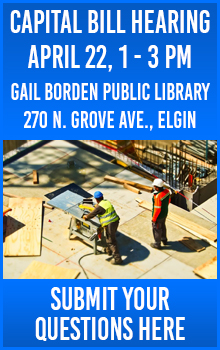 ELGIN – Local government entities and other organizations will have the chance to share their thoughts this April on a potential infrastructure plan for the state at a hearing for the Transportation Subcommittee on Capital.
State Senator Cristina Castro (D-Elgin) pushed for Elgin to be included in a statewide tour of hearings to highlight local infrastructure needs.
"I am excited for Elgin to be on the statewide tour of hearings," Castro said. "This will give local groups and organizations a chance to show us what projects are needed to enhance the job market in our community and our economy."
Anyone who has any questions, concerns or comments are encouraged to email the senator's office with their name and organization at This email address is being protected from spambots. You need JavaScript enabled to view it.
The hearing will take place on Monday, April 22nd at the Gail Borden Public Library, 270 N. Grove Ave., in Elgin from 1 p.m. to 3 p.m.
Category: News