Published: 12 August 2019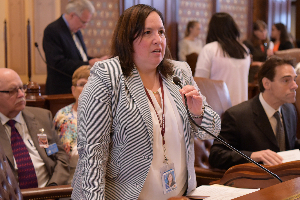 SPRINGFIELD – School nurses will soon be able to provide medicinal cannabis to eligible students under a new law sponsored by State Senator Cristina Castro (D-Elgin) that was signed by the governor today.
"There are many students across the state who rely on medicinal cannabis as part of their medical regimen," Castro said. "Ideally, the parents of these students would provide the medications, but it's often the case that the parents are unable to make it to the school due to other commitments. By giving school nurses the ability to administer these important medications, we can ensure that students across Illinois are getting the proper treatment they require."
Senate Bill 455 grants school nurses or school administrators the right to administer or supervise the self-administration of medical cannabis-infused products to students who are registered as qualifying patients of the Medical Cannabis Pilot Program. Current law allows for the administration of medicinal cannabis, but only by a parent or guardian.
The bill passed both chambers of the General Assembly with bipartisan support and is effective immediately.
Category: News