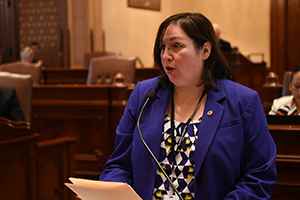 ELGIN- State Senator Cristina Castro (D-Elgin) is outraged at Governor Bruce Rauner's latest attempt to undermine school funding reform.
Governor Rauner issued an amendatory veto to Senate Bill 1, a school funding reform overhaul that is widely supported by school superintendents, educators, advocates and professional and community organizations statewide.
"Once again Governor Rauner pitted Illinois' children against each other," Castro said. "Our state will only succeed if we work together in a bipartisan manner. I urge the governor to work with us; not against us to give all children the chance to thrive."
Rauner's veto punishes school districts by withdrawing a hold harmless provision for school districts after three years. The governor's proposal could result in school districts such as School District 54 and School District 211 losing money at the start of the 2020-2021 school year.
Castro is appalled the governor would support one school district at the expense of another.
"Senate Bill 1 represents a school funding system that is fair and gives all of our children, regardless of their zip code, a chance to succeed," Castro said. "I would never support a plan that would hurt one of our community's school district to help another; especially when there is a proposal that will allow all of Illinois' children to succeed."
Under Senate Bill 1, school districts such as U-46 would have seen a significant increase of funding to level the playing field with neighboring school districts but not at the expense of other schools. No school district in Illinois will lose funding under the proposed formula outlined in Senate Bill 1 indefinitely.
U-46 Superintendent Tony Sanders joined superintendents, school administrators and educators across Illinois to support Senate Bill 1.
"School districts like U-46 are making decisions every moment during these August days to prepare for the start of the school year in a couple of weeks, and there's way too much uncertainty for this time of year," Sanders said. "Remember, Illinois has long ranked as the worst in the nation for its inequitable school funding formula and SB1 is the closest we've ever come to fixing that formula to more fairly serve and support all students. This could be our state leaders' finest moment but they will have to dig deep to find their common ground. More than two million students are counting on them to do so."
The increase in funding to schools passed by the Senate and House would work toward giving schools in need of additional resources, funding based on an evidence-based model that accounts for factors such as students with disabilities and low-income students.
The Senate and House will need three-fifths of a majority to override or accept the governor's veto.