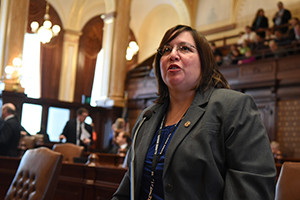 ELGIN – Governor Bruce Rauner's amendatory veto of Senate Bill 1 could have lasting and staggering effects on the economic development of cities such as Elgin, Streamwood and Hoffman Estates.
Under Rauner's plan, economic development funds collected in Tax Increment Financing districts (TIFs) would count against the state funding received by school districts even though schools do not have access to that TIF revenue. In turn, a school district that contains TIF districts would receive less state funding because Rauner's version of the formula falsely categorizes this economic development revenue as money a school district has to spend.
"Businessman Bruce Rauner is advocating for a plan that will not only reduce funding for our schools, but also punish nearly every community in Illinois for utilizing proven economic incentives," State Senator Cristina Castro (D-Elgin) said. "We shouldn't have to choose between providing our children with a good education and growing our economy. I don't know why Governor Rauner is trying to force municipalities to make that choice. "
Rauner's amendatory veto penalizes hundreds of Illinois communities who desperately need adequate education funding and aggressive economic development tools. Elgin currently has three TIF districts, while East Dundee has seven.
Superintendent Tony Sanders represents school district U-46, which has $30 million in property tax revenue that is inaccessible because it lies within a TIF district. Under Governor Rauner's plan, the $30 million in property wealth would be used against the school district, resulting in a lesser investment in U-46 schools from the state than they would have received prior to Rauner's amendatory veto of Senate Bill 1.
"Our schools, children, educators and parents need stability and predictability," Castro said, warning that schools may be unable to open on their scheduled start date of August 16. "Senate Bill 1, in its original form, is a plan that will help all of our schools. There are no losers. We owe it to our children to give them all a chance to succeed, regardless of their zip code."
Castro approved of Senate Bill 1 after talking to superintendents throughout the district who were in strong support of the proposal. The policy outlined in the legislation gives all of Illinois' children an opportunity to succeed and brings Illinois one step closer to funding schools at a proven adequate level. For a full listing of TIF districts throughout Illinois, click here: https://illinoiscomptroller.gov/comptroller/assets/File/MunicipalitiesWithTIFDistricts_August2016.pdf