Published: 25 August 2021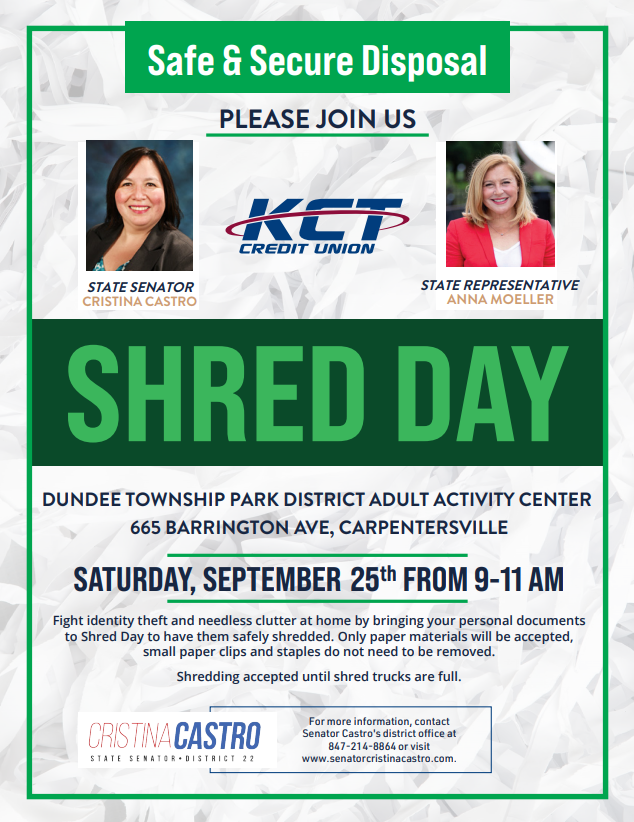 CARPENTERSVILLE – Elgin-area residents will have the opportunity to securely shred personal documents next month thanks to an event sponsored by State Senator Cristina Castro (D- Elgin).
"Fraud and identity theft have been on the rise, so events like this are a great way to make sure your personal information is safely disposed," Castro said. "I encourage folks to come out Sept. 25 to declutter your filing cabinets and keep your identity safe."
In 2020, there were 4.8 million cases of identity theft and fraud reported to the Federal Trade Commission. The Better Business Bureau recommends shredding outdated documents like bank statements, medical bills, and pay stubs to ensure that sensitive information does not fall into the wrong hands.
Residents will have the opportunity to safely get rid of documents at the shred day event at the Dundee Township Park District Adult Activity Center located at 665 Barrington Avenue, Carpentersville from 9 to 11 a.m. on Saturday, Sept. 25. The shred day is a joint effort between Castro, State Rep. Anna Moeller (D- Elgin), and KCT Credit Union.
"Document destruction is important for a variety of reasons, but none more important than the prevention of identity theft," said Yvonne Irving, who serves as Vice President of Business and Community Outreach at KCT Credit Union. "Protect your privacy, reduce the threat of possible identity theft and fight fraud by properly disposing of sensitive documents."
Learn more and get the latest updates on the event's Facebook page.
Category: News