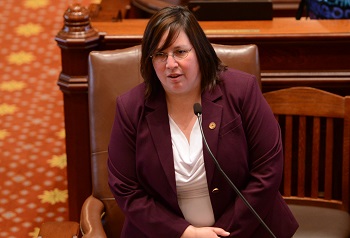 ELGIN – Illinois residents can now tackle eliminating and reducing more than 7,000 units of government.
Senate Bill 3, which allows counties to dissolve certain units of local government through a voter referendum, was signed into law today.
State Senator Cristina Castro (D-Elgin) supported the passage of this monumental government consolidation measure to allow local residents to find additional property tax savings by eliminating outdated and impractical government bodies.
"This is a no-brainer," Castro said. "Government needs to evolve with the needs of the people. This common-sense legislation will empower local residents to be active participants in deciding how government works for them."
Senate Bill 3 expands the ability of townships to consolidate and create greater efficiencies for taxpayers.
The plan allows adjacent townships to merge, allows townships to take over the duties of smaller township road districts, removes the current cap on township size and allows voters to approve the dissolution of townships that are coterminous with a municipality.
Illinois currently has more units of government than any other state in the nation.
"This common-sense approach to consolidating government services will lighten the load on taxpayers without sacrificing services," Castro said. "This one small step will make government more effective and efficient."
Senate Bill 3 passed the Senate and House with bipartisan support. The law will go into effect on January 1, 2018.