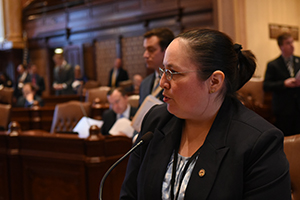 ELGIN- The 22nd Senate District may be one step closer to reinstating a bipartisan economic development program, thanks to a measure championed by Democratic Senator Cristina Castro of Elgin.
House Bill 162 reinstates the Economic Development for a Growing Economy (EDGE) program, allowing the Department of Commerce and Economic Opportunity to offer tax credits to businesses that invest in Illinois.
"This bipartisan legislation will help energize our economy and create good-paying jobs for local residents," Castro said.
EDGE tax credits are an economic development program that helps Illinois attract and retain jobs.
House Bill 162 will require the Department of Commerce and Economic Opportunity to repossess economic development funds if a business granted the tax credit does not fulfill their part of the contract.
That money would then be distributed to the local workforce investment area.
EDGE credit recipients will also be required to submit an annual report to DCEO containing supplier diversity information to help promote diversity in state economic incentives and programs.
The Illinois Manufacturer Association supported passage of this economic incentive.
"The IMA is pleased that legislators passed a short-term extension of the EDGE tax credit," Mark Denzler, Vice President & COO of IMA said. "It's an important tool to help attract and retain jobs."
House Bill 162 passed the Senate and House with bipartisan support.