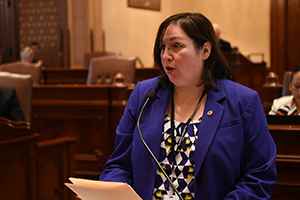 AURORA – The city of Elgin will soon see a face lift and an influx of economic opportunity thanks to a new law signed today.
State Senator Cristina Castro (D-Elgin) sponsored Senate Bill 1783 which extends the Illinois Historic Preservation Tax Credit Program to free up much-needed funding for the restoration of older buildings in downtown Elgin.
"River Edge economic incentives make up a proven, bipartisan economic tool that increases investment in our communities to create millions of new good-paying jobs," Castro said. "The extension of this important program will help us preserve our local history while we continue to see the job-creating benefits of the investments we have made in Elgin's riverfront and downtown revitalization."
According to the city of Elgin, about 100 buildings in the downtown Elgin area can now potentially be rehabilitated.
"I came to Springfield to make sure the people of my district are receiving the things they need from the state, such as job creation and economic development. This will help accomplish that," Castro said. "This legislation not only helps restore older structures to their former beauty, but helps us accomplish our big-picture goals such as job creation."
The measure passed the Senate and House with bipartisan support. Senate Bill 1783 goes into effect immediately.