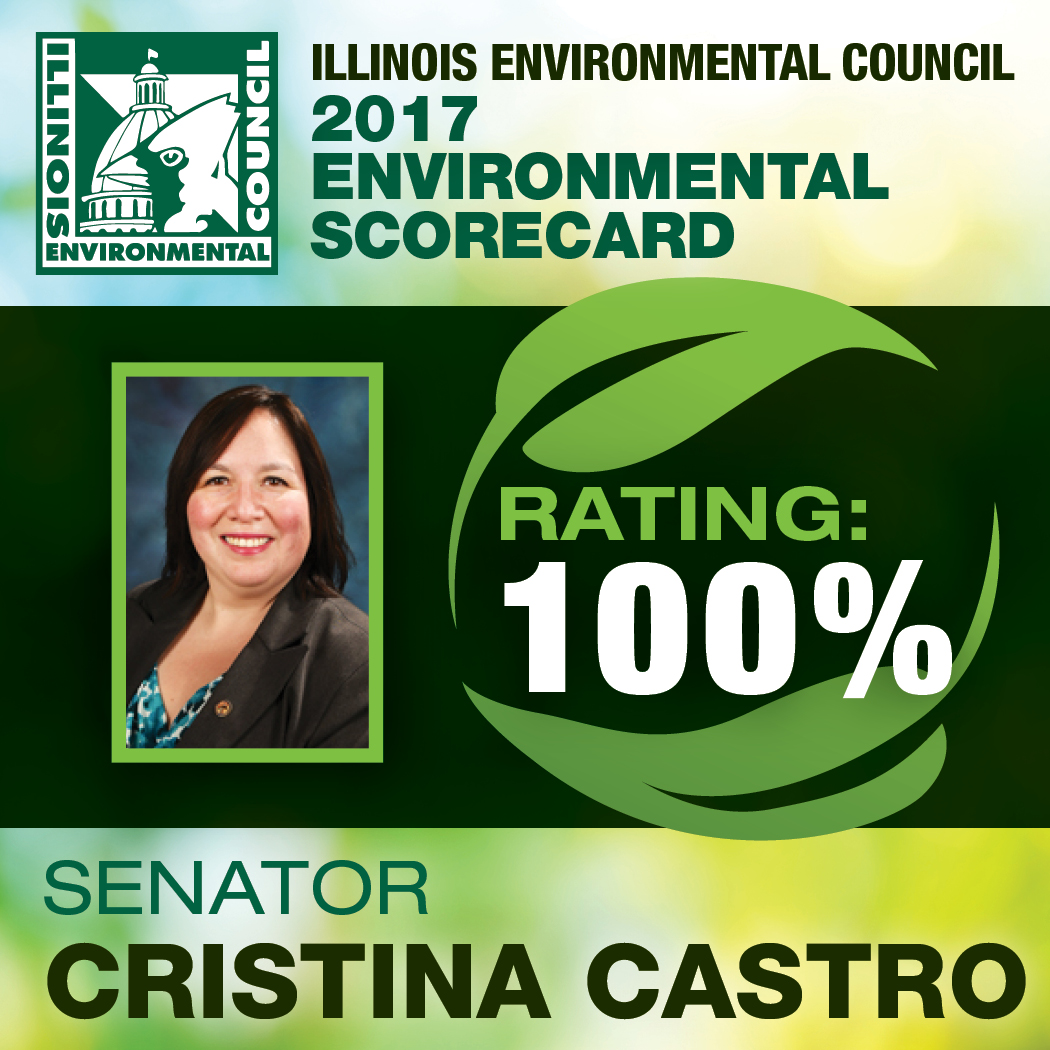 ELGIN- The Illinois Environmental Council released their 2017 Environmental Scorecard today.
State Senator Cristina Castro joined a bipartisan group of 12 senators in recieving a 100% environmental rating from the Illinois Environmental Council.
Some of the bills on the 2017 Environmental Scorecard include:
HB2831: PROPERTY ASSESSED CLEAN ENERGY ACT
HB2831 allows local governments to create their own property-assessed clean energy programs and issue low interest bonds to finance clean energy projects.
SB71: NEW PUBLIC UTILITY WIND PROJECTS

SB71 removes certification requirements for new, utility-scale wind projects, which makes it easier to build these projects under the Future Energy Jobs Act.

SB1029: NATURAL AREAS STEWARDSHIP ACT

SB 1029 promotes stewardship of Illinois' natural resources by allowing Natural Areas Acquisition Funds to be used on stewardship activities in addition to land acquisition.

HB3399: BOBCAT HUNTING
HB3399 bans the hunting and trapping of bobcats in many parts of Illinois, and limits the number of bobcats that can be killed in the parts of the state where it's allowed.

SB1417: RECYCLING E-WASTE

SB1417 requires manufacturers to provide e-waste programs to transport and recycle residential electronic devices through a convenience-based standard. These programs are to start in 2019.

SB1420: COOKING OIL COLLECTION

SB1420 exempts non-profit organizations and government entities that collect cooking oil in collection drives from the public from registration, licensing, fee, and reporting requirements.


SB1456: POLLUTION CONTROL FACILITIES

SB1456 allows food scrap at certain landscape waste transfer facilities to improve food scrap composting infractructure.

HB3063: COTTAGE FOOD PRODUCTS

HB3063 expands cottage food operations by removing previous restrictions on non-hazardous foods.


SB1294: INDUSTRIAL HEMP

SB1294 would allow the Department of Agriculture to license those interested in cultivating industrial hemp, a sustainable agricultural commodity.

HB2820: FARMERS' MARKETS

HB2820 provides uniform food safety and sanitation rules for farmers' markets in response to complaints from vendors that the previous rules were overly burdensome and inefficient.

SB1337: STORMWATER MANAGEMENT

SB1337 would authorize counties to adopt stormwater management plans by referendum and allows county boards to use new policy tools to mitigate the effects of stormwater runoff.

HB659: WATER RECLAMATION

HB659 provides for a nutrient trading program that aims to improve water quality in Illinois. The program should give preference to projects that benefit low-income or rural communities where quality improvements can be made.

The Illinois Environmental Council (IEC) is a non-partisan 38 year-old organization that promotes sound environmental laws and policies, provides a forum for environmentalists and facilitates a statewide activist network. IEC performs legislative advocacy and serves as the environmental community's eyes, ears and voice in Springfield.