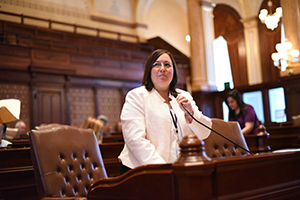 ELGIN- The Illinois General Assembly will soon have a new tool to help encourage female, veteran and minority businesses to relocate to Illinois, thanks to Senator Cristina Castro (D-Elgin).
Castro's measure, Senate Bill 1567, which requires each EDGE credit claimant to submit to the Department of Commerce and Economic Opportunity an annual report containing supplier diversity information, was signed into law today.
"It's important for legislators to form a complete picture before implementing policies to tackle business development and diversity," Castro said. "This small step will give us a better look at our state's strength and weaknesses in attracting veterans, minority and female business owners to encourage economic diversity."
The EDGE program provides special tax incentives to encourage companies to locate or expand its operations in Illinois when there is active consideration of a competing location in another state.
"I'm here to represent the people of our communities," Castro said. "It's my duty to ensure we take all necessary steps to grow our economy and create new jobs for local residents. This new law will help accomplish that."
The program allows companies to reduce the costs of doing business in Illinois when compared with similar costs in other states where operations could have been located.
Senate Bill 1567 passed the Senate and House with bipartisan support. The new law goes into effect immediately.