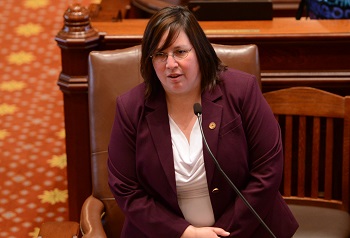 ELGIN- State Senator Cristina Castro (D-Elgin) is urging her colleagues to work with her to protect collective bargaining rights for the people of Illinois by overriding the Governor Bruce Rauner's veto of Senate Bill 1905.
"The governor needs to prioritize people over profits," Castro said. "Governor Rauner's anti-work agenda continues to perpetuate a growing backlog of bills and helped create a two-year budget impasse that decimated rape crisis centers, social service providers and local schools. He needs to learn his policies did not work in the boardroom and will not for the people of Illinois."
Castro's measure, Senate Bill 1905, protects all Illinois workers by preventing local government entities from enacting harmful "right-to-work" laws advocated for by the governor and his extreme supporters.
Right-to-work laws hinder individuals from participating in collective negotiations for fair wages, safe workplaces and competitive benefits. These types of policies are usually advocated for by business groups to protect company profits at the expense of workers.
"Governor Rauner has worked to systematically tear Illinois apart in an attempt to sell off parts to the highest bidders," Castro said. "Illinois is not for sale. I refuse to stand by as he launches his latest attack on the hardworking residents of our district. I urge my colleagues in the House and Senate to put political party aside and work together to defeat his corporate agenda."
Senate Bill 1905 passed the Senate and House with some bipartisan support. Castro hopes the Senate will consider this measure during the General Assembly's Veto Session which starts next week.