Published: 07 December 2017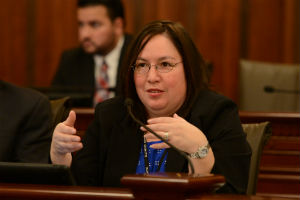 SPRINGFIELD – Needless bureaucratic hurdles are slowing ethics investigations and need to be removed, state Senator Cristina Castro said in filing legislation to streamline the process.

"We have a skilled investigator on the job. We need to empower her to do that job and deliver results quickly," said Castro, an Elgin Democrat and the newest member of the Legislative Ethics Commission.

Here's the problem with the current system.

When an ethics complaint is filed regarding lawmakers or legislative employees, the Legislative Inspector General cannot review the complaint until it first goes to the Ethics Commission and is approved for an investigation. This bureaucratic step can delay the start of investigation by weeks if not months.

Castro's proposal simply removes the hurdle and gives the inspector general the authority to begin reviewing cases as they are filed.

"This unnecessary step is only delaying the inspector general from doing her job," said Castro. "Getting rid of it will speed up the process and deliver faster results, which is what the public wants and expects. It is important that we make it as easy as possible for the inspector General to get to work as soon as possible on these time-sensitive issues."
Castro was named to the Legislative Ethics Commission in early November. One of her first actions was approving the hiring of a new inspector general after the post had gone vacant for nearly three years. During that time, more than three dozen complaints stacked up in the commission's office.

The newly appointed Inspector General is Julie Porter, a skilled attorney who worked as an assistant U.S. attorney in Chicago for 12 years before working in a private practice. Her private legal work includes investigations and civil rights complaints.

Castro is working to ensure a speedy and thorough review of those complaints and any new ones. "Removing bureaucratic hurdles is a key part of attempting to restore the public's faith in the Legislative Ethics Commission's ability to do its job," Castro said.
Category: News