Published: 08 February 2018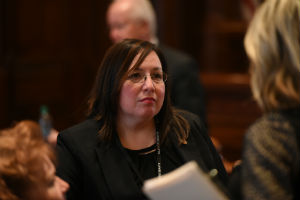 SPRINGFIELD – Senator Cristina Castro (D-Elgin) continues to look for answers from state officials regarding a Legionnaires' disease outbreak that caused 13 deaths in the last three years at the Illinois Veterans Home at Quincy.
"I want to be part of a solution," Castro said. "But that requires the Rauner administration – the people who are supposed to run state government – to come clean, be honest and actually put forth a plan to solve the problem."
At the Wednesday Veterans Affairs Committee meeting, Castro focused on a 2016 engineering report that the Rauner administration commissioned to try to solve the Legionnaires' disease outbreak at the Quincy home.
The plan included replacing the plumbing in select facilities, including those that house the veterans most susceptible to infection. That 2016 report was never acted upon by the Rauner administration. Its existence was not made public until the evening prior to the committee hearing.
Castro was stunned to learn of its existence and the administration's failure to do anything with it even as the public health epidemic continued at the Quincy facility.
"Why did the Rauner administration sit on this report and do nothing?" Castro asked. "The governor and his administration failed our veterans and now they're trying to paper over their failure with new reports and bureaucratic red tape. That's unacceptable."
The engineering firm is now being asked to expand the plumbing replacement to the entire campus, and Castro said it is long past time to act.
"If the governor would have taken charge of the situation, he could have solved the problem back in 2016," said Castro.
Category: News