Published: 13 February 2018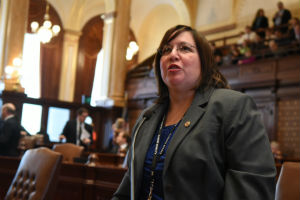 SPRINGFIELD – Senator Cristina Castro (D-Elgin) this morning reacted to news that two more cases of Legionnaires' disease were found among residents at the Illinois Veterans Home at Quincy.
"The governor has dragged his feet long enough on this issue," said Castro. "While he waits for someone else to take charge our veterans suffer. How many people need to die on his watch for him to take charge and do something?"
"We don't need another task force to come up with a plan in 90 days."
The first Legionnaires' disease outbreak at the Illinois Veterans Home at Quincy in 2015 contributed to the deaths of 12 residents. The disease, which returned in 2016, 2017 and now 2018, took another life this past fall. Dozens more were sickened.
Category: News