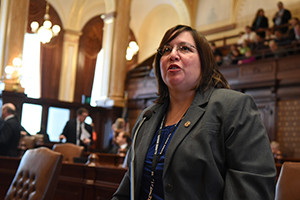 SPRINGFIELD – Senator Cristina Castro (D-Elgin) is sponsoring Senate Bill 2577 to ensure that out-of-state retailers selling to Illinois residents are held as responsible as in-state businesses.
Senate Bill 2577 would establish guidelines for what constitutes an in-state business in regard to retailers that are not physically located in Illinois, but that sell to Illinois consumers. The measure would only consider outside retailers as maintaining an in-state business if they make more than $150,000 from Illinois consumers or if there are over 200 transactions by purchasers from Illinois.
"Times are different now and a lot of people do their shopping online," said Castro. "It is important that out-of-state businesses making the majority of their sales to Illinois residents are held accountable to their share of state revenues."
Currently, out-of-state retailers who sell online to Illinois residents do not have to collect a sales tax, a practice which undercuts other retailers and denies revenue to state services that benefit all Illinoisans.
"Businesses in our state are already struggling," said Castro. "Online stores from out of state have an advantage over them because they don't have to meet the same requirements. It's time for that to change."
Senate Bill 2577 awaits consideration before the full Senate.
Category: News