ELGIN- The staggering effects of Illinois' budget stalemate and the components of a wide-ranging Senate plan to break the impasse were the focus of Senator Cristina Castro's first town hall meeting with constituents in Elgin Wednesday night.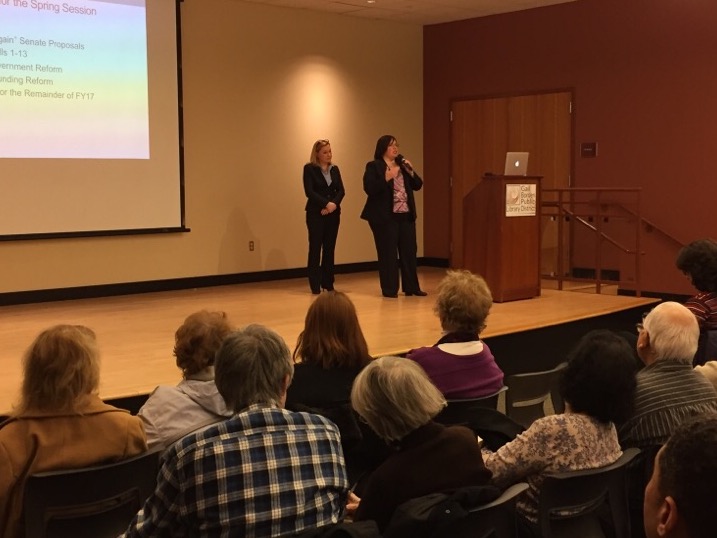 Castro, an Elgin Democrat, was sworn in for her first term as a state senator in January. She co-hosted the town hall meeting with Representative Anna Moeller, also an Elgin Democrat. More than 150 people turned out for the discussion. Although originally scheduled for an hour, Castro and Moeller spent two-hours speaking with their constituents on a wide-range of issues.
"Local residents are the voices that should be heard first and foremost in Springfield," Castro said. "Town hall meetings are one of the ways that legislators like Rep. Moeller and I can hear what our constituents' concerns are so we can work together towards improving our state."
Constituents shared their frustrations with the budget impasse and expressed concern about possible cuts to much needed social services. One woman, fearing for the future of her child and family, asked about autism funding, while another raised opinions on public employee pensions. Many pleaded for an end to the two-year stalemate and applauded the Senate's attempt at a bipartisan compromise to end the impasse. Attendees called for the state to follow through with its promises and to work to ensure a better life for Illinois residents.
Castro encourages those wanting to make their voices heard to reach out to her through her website at www.sentorcristinacastro.com to express their views.
Castro said, "This town hall couldn't have come at a better time. I look forward to taking the views of my district with me as I begin my first legislative session in Springfield and I look forward to focusing on what the people of this state truly need."