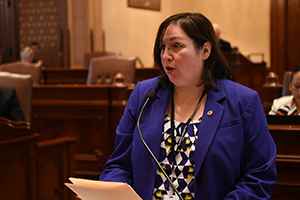 CHICAGO – State Senator Cristina Castro (D-Elgin) is continuing to ask questions and seek answers regarding the Legionnaires' disease epidemic at the Illinois Veterans Home at Quincy.
The joint House-Senate Veterans Affairs Committee met today in Chicago to question key Rauner officials on their response to the ongoing outbreak.
"This crisis has lasted three years and claimed 13 lives," said Castro. "I don't feel like there is a sense of urgency to get this done. It's taken us three years to get here and still the problem has not been solved."
A Legionnaires disease outbreak at the Illinois Veterans Home at Quincy has, since 2015, claimed 13 lives and infected dozens more. The federal Centers for Disease Control and Prevention has made multiple trips to Quincy and repeatedly pointed to the aging plumbing in the century-old buildings as harboring the bacteria that causes the disease.
Castro has been outspoken in her criticism of how the Rauner administration has handled the situation, pointing to recent media reports revealing emails in which Illinois Public Health Director Nirav Shah and others appear more concerned with controlling media coverage than controlling what Gov. Rauner has called a the public health "crisis."
"It took three reports and a lot of covering their tails, but still nothing has been done. Last week I called for Director Shah's resignation and I stand by that," Castro said.
The Rauner administration has hired outside engineers twice in the past three years to study how to address this problem, but no action was taken. Instead, two task forces were recently created and now the Rauner administration is promising to have final recommendations to lawmakers by May 1.
"We can't wait until May. How many more people are going to get sick?" asked Castro. "We just need to solve the problem now."
Category: News