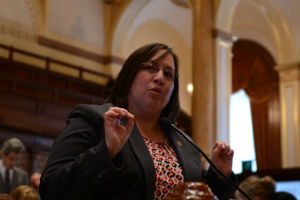 ELGIN – Senator Cristina Castro (D-Elgin) issued the following statement in response to the governor's press conference at the Illinois Veterans Home at Quincy today:
"What is this guy talking about? Everything he said today was a contradiction of what we were told last week by his administration."
"Last week we were told the nearby nursing home might not be option for housing veterans because the building is old and might have its own problems. Today we're told it's back on the table.
"Last week we were told a draft plan for fixing the Quincy campus would be done by the end of the month and a final plan ready by May 1. Today we hear about entirely new avenues that should be finalized by the fall.
"When is someone going to actually take charge and do something?
"This outbreak began in 2015. The governor already spent $60,000 worth of taxpayers' money on two engineering reports only to now announce he's throwing them out and spending even more on new experts to do new studies and offer up another new plan.
"I've got family members of deceased veterans contacting me because they're frustrated and fed up with the Rauner administration.
"I don't want to hear about plans and options and task forces and choices to be made at some future date. I want the governor to make a decision and do something right now."
Category: News