Published: 20 August 2018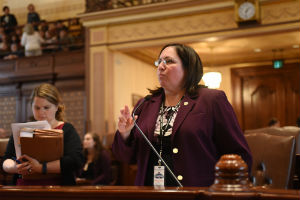 ELGIN— Gov. Bruce Rauner has continued his tirade on the working class by rejecting two measures that would benefit Illinois' emergency personnel.
Rauner issued vetoes on House Bill 126, which extends bargaining rights to paramedics, and House Bill 127, which provides health coverage and educational benefits for firefighters and their families if a paramedic or EMT suffers catastrophic injury or is killed in the line of duty.
State Senator Cristina Castro (D-Elgin) said the governor's actions show utter disregard for community heroes.
"The governor has demonstrated once again he is blinded by his war against unions," Castro said. "His anti-union actions and rhetoric are evident in everything he does, but even by his standards this action against our emergency personnel is despicable."
House Bill 126 would have extended the same rights granted to firefighters to paramedics that are also employed by units of local government. Castro said paramedics face the same dangers and serve our communities with honor and respect.
The legislation would only impact approximately 60 paramedics employed by local governments such as Mascoutah, Menard County, Morton, Highland, Troy and Union County.
"Our paramedics put their lives on the line every day to keep our communities safe. The next time the governor needs to call 911, he should take a second to remember how he took our emergency personnel for granted," Castro said. "
House Bill 127 would have extended health coverage and educational benefits to paramedics and EMTs if they suffer a catastrophic injury or are killed in the line of duty
"Our EMTs and paramedics are often the deciding factor between life and death," Castro said. "We cannot thank them and their families enough for their service and sacrifice to keep our communities safe. I just wish our governor would take the time to do the same."
House Bill 126 and House Bill 127 passed the Senate and House with bipartisan support. Castro vows to fight for an override of the governor's vetoes to ensure Illinois' EMTs and paramedics receive adequate benefits and protections.
Category: News