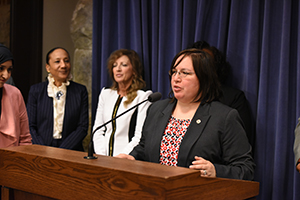 A measure that would protect college students from mounting student loan debt passed the Illinois Senate on Wednesday.
Senate Bill 1351 establishes the Student Loan Bill of Rights in Illinois to provide as much protection as possible for student borrowers, a population that frequently is targeted by bad actors in the student loan industry.
State Senator Cristina Castro (D- Elgin), who is a co-sponsor of the legislation, noted how important it is to make sure both transparency and fairness is brought to the student loan lending system.
"Going to college shouldn't be the financial burden it has become," said Castro. "Too often, young people are graduating from universities with crippling debt and have no idea what resources are available to them, or understand their rights as a borrower. This legislation would bring clarity to the process and prevent more young people from defaulting on their loans."
The Student Loan Bill of Rights would help to ensure students and their families receive clear information about the money they borrow for higher education and how their student loans are serviced.
The legislation received significant bipartisan support and now goes to the House for consideration.
Category: News