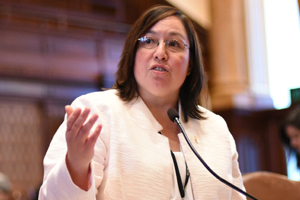 SPRINGFIELD– Senator Cristina Castro (D-Elgin) is pushing for stronger protections for Illinois workers.
House Bill 4572 would expand the Illinois Human Rights Act to cover employers with one or more employees. The bill would give these employees a remedy under Illinois law for work-related discrimination and retaliation.
Currently, only employers with 15 or more employees are covered under the Act.
"Expanding the Illinois Human Rights Act is the right thing to do," Castro said. "We have to ensure that every employee in the state has the same protections when it comes to discrimination in the work place."
Employees would be able to bring claims for discrimination based on race, color, religion, sex, marital status, military status and sexual orientation.
There are currently exceptions to the Act for certain human rights claims, including sexual harassment and discrimination based on pregnancy or disability.
House Bill 4572 passed both chambers and now moves to the governor's desk for consideration.
Category: News