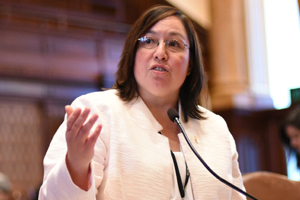 SPRINGFIELD – Senator Cristina Castro (D-Elgin) is fighting back against President Donald Trump's efforts to rescind the Deferred Action for Childhood Arrivals (DACA) program.

Castro sponsored Senate Resolution 864, which calls upon the Trump administration and U.S. Congress to preserve protections for undocumented young people formerly eligible for the DACA program.

"Illinois has the third largest number of DACA recipients in the United States," Castro said. "Trump is trying to make young people, who have lived much of their lives in this country, leave a place that has become their home. We cannot allow Trump to hurt Illinois' residents and hinder our economy."

In September, Trump announced plans to repeal DACA, an Obama initiative put into place to protect undocumented immigrants who came to the U.S. as children. The program allows them to remain and work in the country if they meet certain criteria.

Senate Resolution 864 was adopted by the Senate on Wednesday.