Published: Tuesday, May 23, 2017 05:46 PM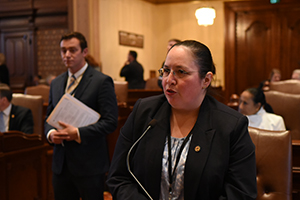 Senate Democrats passed legislation Tuesday that would balance the state budget and fully fund P-12 education, higher education and human services.
State Senator Cristina Castro (D-Elgin) released the following statement:
"Today, the Senate Democrats passed a plan with responsible repairs to a state budget that has been horribly neglected under Gov. Rauner. After six months of negotiation, and his inability to do the job, we took the responsibility of putting together a plan that includes cuts, reforms and revenue to bring stability and certainty to the state.
"We do not have time to wait any longer. Every day we go without a budget is another day of uncertainty for Elgin and Harper Community Colleges and the Hanover Park Education and Work Center. It is another day where students will not receive needed MAP grant funding to attend our state universities and community colleges. It means places like Ecker Center for Mental Health are suffering and being forced to discontinue vital programs.
"Lawmakers have a responsibility to the people back home and to fix this mess. Today we took the needed steps to get this done."
Category: News