Published: Friday, November 03, 2017 05:26 PM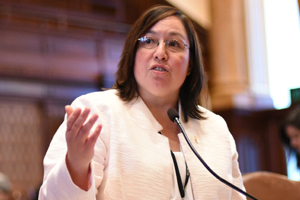 ELGIN – The newest member of the Legislative Ethics Commission said she intends to push the agency to be more timely and responsive in its handling of complaints.
"I want to make it clear that I intend to help drive a culture of swiftness in the actions of the Commission. When there are accusations of wrongdoing, I intend to be thoughtful and fair – but the Commission should make every effort to act in a timely manner," said Illinois State Sen. Cristina Castro, a Democrat from Elgin.
Castro officially joined the Legislative Ethics Commission on Friday, November 3.
She hopes to bring a fresh perspective to the commission.
Castro, a former marketing and communications manager in the private and public sector, was first elected to the Illinois Senate last year. She now serves as a full-time legislator for the 22nd State Senate District.
Castro said her first priority is filling a vacant inspector general post so complaints that have lingered can be investigated and adjudicated.
"It's unacceptable to have complaints sit as long as they have. That's going to change," Castro said.
The eight-member commission is charged with ruling on findings of ethical misconduct within the legislative branch and its employees. The commission was created in December 2003 by the State Officials and Employees Ethics Act.
For more information about the commission, visit its website.
Category: News