Published: Monday, October 30, 2017 02:14 PM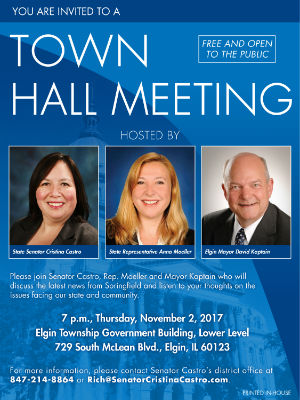 ELGIN – State Senator Cristina Castro (D-Elgin), State Representative Anna Moeller (D-Elgin) and Elgin Mayor David Kaptain will be joining together to hold a town hall meeting on November 2nd. They will be coming together to discuss news from Springfield and have an open dialogue with community members to find out their thoughts on what is happening in our community.

The meeting is being held to give residents the chance to ask Senator Castro, Representative Moeller and Mayor Kaptain questions and to discuss important issues surrounding their communities and state.

Senator Castro believes that town halls are important in order to receive feedback from local residents.

This event is free and open to the public.

What: Town hall
Date: Thursday, November 2
Time: 7 p.m.
Location: Elgin Township Government Building, Lower Level (729 South McLean Blvd., Elgin, IL)

Speakers include:
· State Senator Cristina Castro
· State Representative Anna Moeller
· Elgin Mayor David Kaptain

For more information, call Castro's office at (847) 214-8864 or visit www.SenatorCristinaCastro.com.
Category: Information