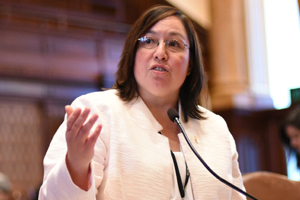 ELGIN – State Senator Cristina Castro (D-Elgin) released the following statement regarding the unanimous decision by the Legislative Ethics Commission to appoint Carol Pope as the legislative inspector general:
"I am confident that Judge Pope will fulfill her duties and meet our expectations as the legislative inspector general. She will bring her experience and knowledge to our commission and help us move forward and become stronger."
Castro, who was appointed to the Legislative Ethics Commission in November 2017, commended current Legislative Inspector General Julie Porter for the work she's done.
"Julie Porter has done a fantastic job and has helped us greatly in getting this commission's feet off the ground. I want to thank her for her competence and determination thus far serving as our current legislative inspector general.
"I believe that with the help of Judge Pope, we will ensure that we hold people accountable when they need to be and protect those who need it."
Pope's appointment will go into effect March 1, 2019, and will serve through June 30, 2023.
Porter will continue to serve in that capacity until Feb. 28, 2019.