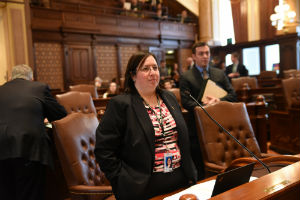 SPRINGFIELD – Senator Cristina Castro (D-Elgin) passed a measure today that would help provide children in foster care and under supervision of the Department of Children and Family Services (DCFS) the opportunity to go to college.
Under Senate Bill 2846, certain youth from DCFS, after applying for FAFSA, would have the opportunity to receive a scholarship that would cover the remaining tuition and fees for any community college, university or college in Illinois.
"Kids in foster care are less likely to attend college," said Castro. "This affects their futures, including their income levels and employment stability. I don't want there to be barriers for these kids who are in situations that they had no control over."
Currently, there are scholarship opportunities provided through DCFS, but the number is limited. Only 53 scholarships are provided each year and approximately 250 students apply annually.
"This measure will give kids from DCFS the tools to be successful," said Castro. "They will then go out and contribute to our economy and make the job market stronger. Their talents and dreams shouldn't be limited."
Castro's measure will allow scholarship waivers to be available to students for at least the first five years that they are enrolled as long as they make progress toward completing their degree. The youth must enroll before the age of 26 to qualify.
Senate Bill 2846 passed the Illinois Senate and will now move to the House.