Published: Wednesday, November 08, 2017 02:16 PM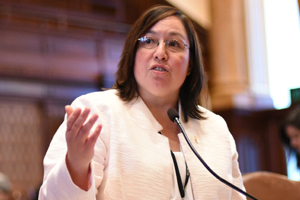 SPRINGFIELD – Senator Cristina Castro (D-Elgin) and the Illinois Senate overrode the governor's veto of House Bill 3649 to make state debt more transparent and to prevent the pile up of bills being backlogged in our state.

House Bill 3649 amends the State Finance Act and requires that state agencies provide a monthly report to the comptroller identifying the current liabilities held by the state agency. This measure will reveal liabilities and potential late interest penalties that may be accumulating. This transparency will help Illinois know what debt is owed by the state.

"The reasoning behind why Governor Rauner vetoed this bill is nonsense," Castro said. "This measure ensures more accountability and transparency from state agencies when they are reporting back to the state. We have to get our state's finances in order and this is the first step in doing just that."

Currently state agencies only have to report once a year, which leads to delayed payments. The consequence of this has led to the backlog of bills our state has and is currently facing.

House Bill 3649 was overridden in the House and Senate with bipartisan support.
Category: News