Published: Wednesday, October 25, 2017 01:17 PM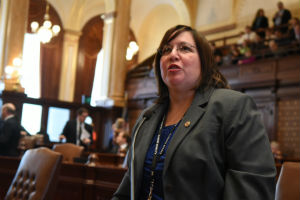 SPRINGFIELD – Senator Cristina Castro (D-Elgin) worked with the Illinois State Senate to override the governor's veto on Senate Bill 1462 to bring a new economic development program to Illinois.

Senate Bill 1462 would create an Entrepreneur Learner's Permit pilot program to encourage and assist beginning entrepreneurs in certain business sectors by reimbursing them for state fees associated with forming a business.

"It's important to utilize this opportunity to help entrepreneurs start their businesses here in our state and stay here," said Castro. "I am excited to continue fighting for economic development opportunities like this to make our state a better place to do business."

Currently, entrepreneurs must pay several fees for licenses and permits. Senate Bill 1462 allows for reimbursement of those fees in hopes of making it easier to start a new business in Illinois. It reimburses state fees for first-time business owners of information services, biotechnology and green technology businesses.

"Governor Rauner is a business man, but he is struggling to recognize the importance of new jobs," said Castro. "Information Service, biotechnology and innovative green industries are the jobs of our future. It's important we work together to embrace these industries and modernize Illinois' economy."

Senate Bill 1462 was overridden by the Senate with bipartisan support and moves to the House for reconsideration.
Category: News