SPRINGFIELD – Today, Governor Rauner addressed the General Assembly to explain his proposed budget. In response, State Senator Cristina Castro (D-Elgin) released the following statement.
"We have heard this budget address before," said Castro. "For the third year now, the governor has failed to present a balanced budget and as a result, social services and higher education continue to suffer."
"Gov. Rauner presented some great talking points, but that's all they are: talk, nothing solid. The Senate, in a bipartisan fashion, has worked to put forth action. Words are meaningless without action. I look forward to continuing to work with my colleagues in the legislature to negotiate a grand bargain and am hopeful that the governor will support it when it comes to his desk."
ELGIN- The staggering effects of Illinois' budget stalemate and the components of a wide-ranging Senate plan to break the impasse were the focus of Senator Cristina Castro's first town hall meeting with constituents in Elgin Wednesday night.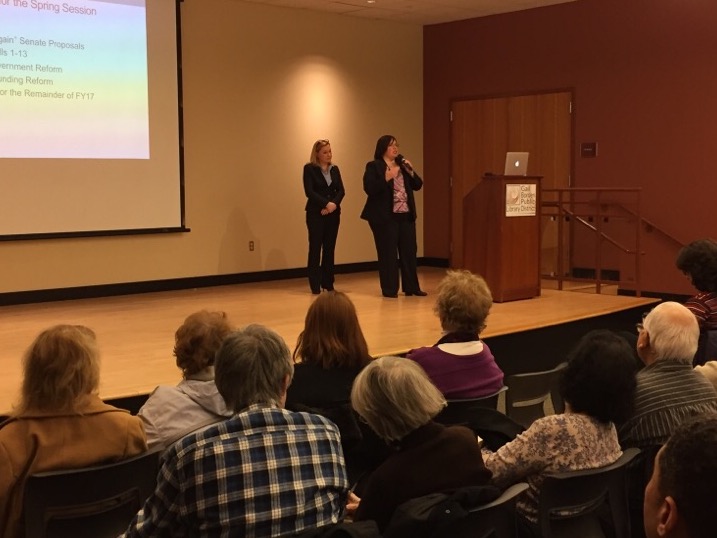 Castro, an Elgin Democrat, was sworn in for her first term as a state senator in January. She co-hosted the town hall meeting with Representative Anna Moeller, also an Elgin Democrat. More than 150 people turned out for the discussion. Although originally scheduled for an hour, Castro and Moeller spent two-hours speaking with their constituents on a wide-range of issues.
"Local residents are the voices that should be heard first and foremost in Springfield," Castro said. "Town hall meetings are one of the ways that legislators like Rep. Moeller and I can hear what our constituents' concerns are so we can work together towards improving our state."
SPRINGFIELD – State Senator Cristina Castro (D-Elgin) was sworn into office today at the Inaugural Ceremony at the Illinois State Capitol. As her first act as State Senator, Castro immediately supported a new Senate rule to leadership in the Senate to 10 years.

"Voters of the 22nd District have entrusted to me the responsibility to be their voice in Springfield and I am honored to officially begin that duty today," said Sen. Castro. "Term limits for leadership was one of my top priorities as a new senator, I'm happy to have made that happen as my first official act. Today in the Senate, we take the first step."
With the adoption of Senate Resolution 3, Senate leadership term limits become part of the Senate rules, and do so immediately.

"Just as new senators are needed to bring new ideas, rotation in leadership is also needed to keep our state moving forward. I am proud to see the Senate enact this new rule and hope the House can follow our lead, " said Castro