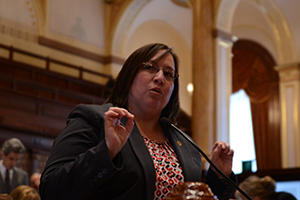 Obstructions in car windshields of test-driven vehicles has led State Senator Cristina Castro (D-Elgin) to act on life saving legislation that would require dealerships to remove decals on vehicles before leaving the lot.
The measure, House Bill 733, arose out of a tragic situation where 22 year old Brenden Burke was victim to a preventable fatal accident.
Burke was struck and killed in 2016 after a vehicle being test-driven from a nearby car dealer turned left into Burke's path. The driver of the other vehicle had obstructed vision because of the number of decals and paper work left on the driver side windshield by the dealership.
"The story of Brenden Burke is a tragic, yet highly preventable, one," said Castro. "There is absolutely no reason decals and paper work should be obstructing the view of a person test-driving an unfamiliar vehicle."
Under the legislation new or used car dealerships that fail to remove decals and paper work from the car before it drives of the lot would be fined between $50 and $500.
The legislation passed the Senate on Wednesday and now goes to the governor for approval.