Published: 03 August 2018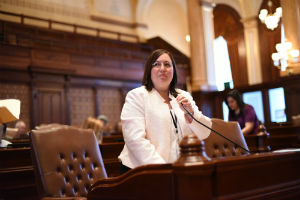 ELGIN– Gov. Bruce Rauner prioritized big banks over Illinois consumers Friday, vetoing consumer protection legislation championed by State Senator Cristina Castro (D-Elgin).
On Friday, Rauner did not approve Castro's House Bill 4922, which would have prohibited rebate cards from charging inactivity fees. The legislation would have expanded existing gift card regulations to rebate cards.
"Gov. Bruce Rauner prioritized big banks over local consumers," Castro said. "This measure would hold big banks accountable and help prevent them from deceiving Illinois residents with unnecessary and burdensome fees."
The vetoed measure was an initiative of the Illinois State Treasurer to prevent banks from taking unclaimed property on rebate cards.
Under current law, companies can issue a rebate in the form of a check to a consumer, and if the check is not cashed within three years, the company is required to turn the amount of the check over to the Treasurer's Office as unclaimed property.
Castro pledges to continue to work with the State Treasurer and Attorney General to protect Illinois consumers who have money owed to them from rebates.
"If a consumer is owed money from a rebate, they shouldn't be hindered by dormancy fees," Castro said. "It is unfair and should be unlawful. Consumers shouldn't be at risk of being charged for getting a rebate. It's their money."
Category: News