Published: 24 August 2018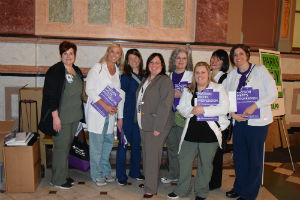 ELGIN – Nurses will now be protected under the Healthcare Violence Prevention Act thanks to State Senator Cristina Castro's (D-Elgin) new law that was signed on Friday.

"Health care providers devote their lives to taking care of our community," Castro said. "Now it is time that we help them. Nurses deserve to feel safe at work."

The new law creates the Healthcare Violence Prevention Act to protect health care providers, puts in place a violence prevention program and adds whistleblower protections for nurses who report violence to law enforcement.

Castro filed the legislation in response to an incident that occurred in Kane County on May 13, 2017, at Delnor Hospital. Two nurses were taken hostage by an inmate undergoing treatment who managed to obtain a handgun.

"The incident that happened in our home county at Delnor Hospital was alarming and extremely upsetting," Castro said. "These nurses went to work that day to do their jobs and ensure the wellbeing of their patients, but instead they were assaulted. That's why pushed this legislation and I am happy that it was finally signed into law."

House Bill 4100 passed the Senate with unanimous support and goes into effect Jan. 1, 2019.
Category: News